Following the increased consumption of people for mobile, businesses seek to attract the attention of their consumers through enterprise applications. As a result, thousands of businesses embark on the app development journey every year.
In order for the process to be as accurate as possible, it is advisable to do your due diligence by researching and asking the right questions before you decide to hire the services of an application development company.
It is important to note that most businesses or organizations do not have the resources or capabilities to develop an app internally, so one of the biggest challenges faced by businesses is knowing how to choose the right app development company – one that really understands your project and empowers it to the point of building a successful app. Thinking about the development options available to you and making an accurate choice at the end of the process can save you a lot of headache, time and money down the road.
It is important not to rush the process of hiring an app development company, and to spend enough time carefully examining all your options.

When looking for the right development team for your project, there are 6 criteria to decide:
1. Examine the portfolio
It is important to ask about the latest projects done by the development company. This is one of the best ways to determine whether a potential company is suitable for your project or not. Can you view their portfolio? Do they have apps in the app stores that you can download? Additionally, you should look at the reviews and ratings of their apps. Beware of companies that do not have a proven portfolio or apps available in online stores.
Beyond that, it is recommended to ask how long it took to finish certain projects? What unexpected challenges did they encounter and how did they solve them? These insights allow you to determine whether it is a reliable company that can effectively answer challenges and produce successful applications.
A good app development company should be able to guide you through the development process but at the same time provide you with creative input based on their experience with similar apps. Try to search for companies that have developed similar applications in the same industry as yours or compared to what you need.
2. Expertise
It is important to make sure in advance that when you choose an app development company, it will really be able to build the features and functionality that you actually want for your app. In addition, they should be able to tell you how they will implement a proposed feature and suggest any types of appropriate frameworks they might implement. It is also important to check whether their software can be integrated with other work systems.
It is important to note that the same is true for other platforms. For that matter, if you have decided on building a sales website for your business, the guidelines remain the same and you must make sure that the capabilities to interface with all types of different systems exist.
3. Price
Don't choose an app development company based on price. When it comes to mobile app development it is important that you get a great product, not the cheapest product you can buy. Keep within your budget constraints and let the quality of their previous work and their expertise decide whether or not they are suitable for the role.
It is important to have a clear and flexible budget for your project before agreeing to any pricing terms.
When discussing project functionality and feature list, remember to ask about payment methods and payment terms. How do they calculate pricing? Is it a full one-time payment, or is payment in regular installments required? In addition, it is important to make sure that you are aware of all the additional costs during the project.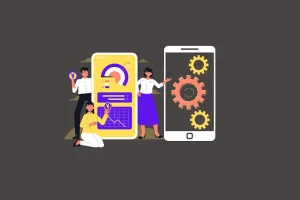 4. Adapting the platform to the application
It is important to know in advance the platform to which you want to develop and associate the application. Can the company build applications for different operating systems? If you want to develop your application for several platforms, be clear about your decision and choose a company that is able to do this with maximum efficiency.
One of the ways to do this is to hire a company that is well versed in "cross-platform" applications. Whether you are developing for Android or iOS, you need to rely on an app development company that has a deep understanding of the guidelines for each of these platforms.
5. Involvement
No matter how good and high-quality the company is in its work, they will not be able to develop your application without full reference to the feedback and references you are thinking about. Therefore, it is important to understand your role in the project.
What degree of involvement is required of you? In most cases it is necessary to repeat or change things and technical elements on the fly, so your involvement is critical for app development.
In addition, even at all stages of the website or application characterization process, it is important that you are involved and know where things stand. You may be able to provide a different perspective that may affect the entire project and its success.
6. Communication
The communication of the software house with the client during the project is extremely important. How often should you communicate? What are the communication methods during the project? It is desirable and recommended to hire a company that provides a project update at least once a week in order to effectively monitor the progress. Effective communication between clients and developers plays an integral role in the success of the project.
At the same time, you should monitor how often the company and its representatives answer your messages and phone calls during the search process. Is the attention fully directed to you? Try to understand if they have a real interest in your business idea and project.
If at this stage they are not so active, this may be a good indication of how they will behave during the development of the project. As a rule of thumb, you should choose an app development company with whom you can build a relationship – strong working relationships mean openly shared ideas, and provide the opportunity to build an even better app.
We at NPCoding provide quality and professional service to our hundreds of customers. If you are also looking to initiate the process of creating an application or building websites – we invite you to contact us and we will be happy to assist and help you make your dream a reality.